07may3:00 pm8:30 pmVETLANTA Q2 Super Summit Hosted by AMB Group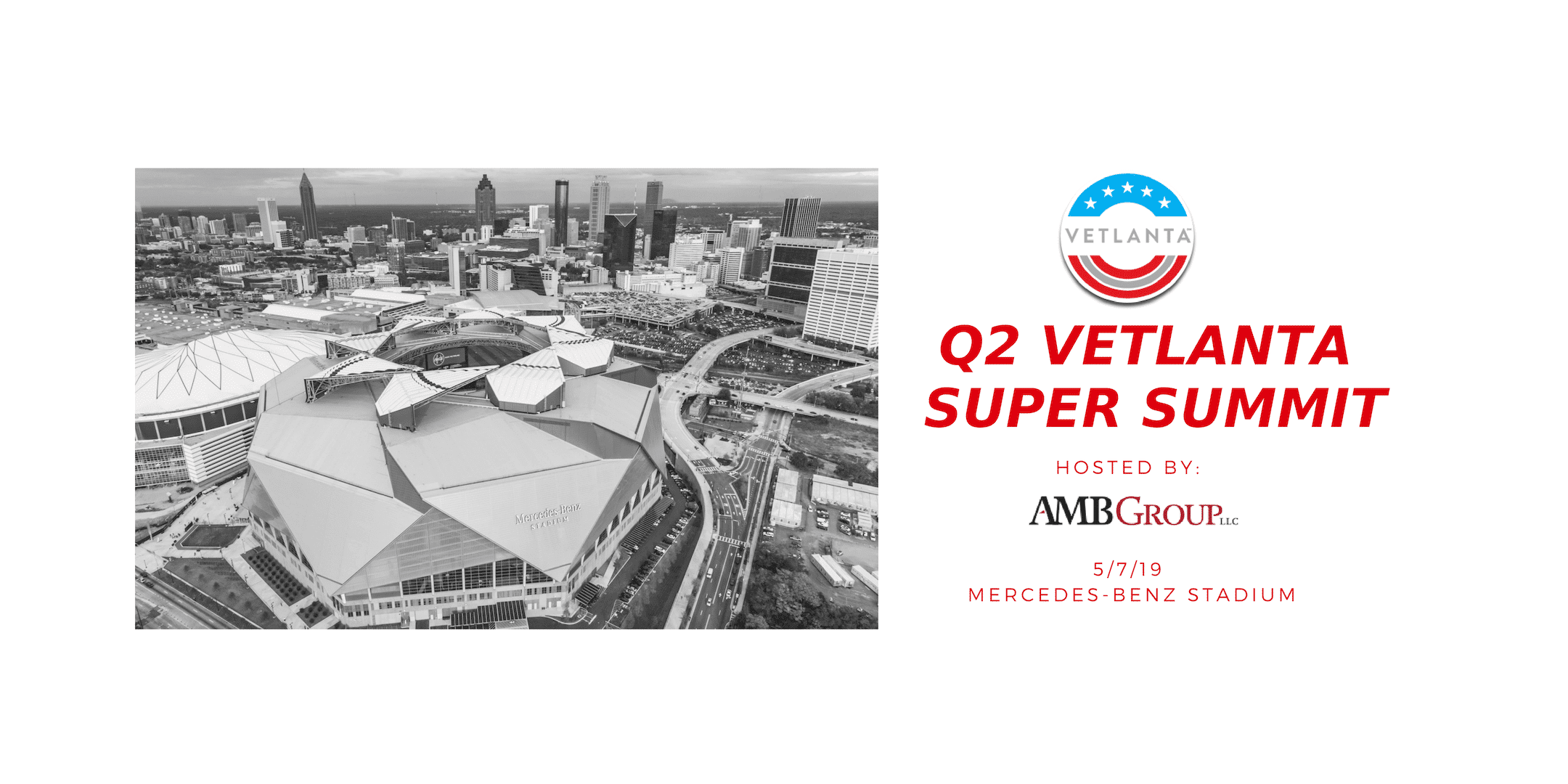 Event Details
WE'RE PROUD TO ANNOUNCE THAT GOVERNOR BRIAN KEMP WILL BE DELIVERING OUR KEYNOTE ADDRESS!
The Hire Heroes USA Breakout Session is SOLD OUT.
The schedule for the SuperSummit is as follows:



Breakout Sessions: 3-5PM




Networking and Tabling Session: 530-7PM




General Session, Keynote, and Panel: 7-830PM



PROGRAM DETAILS
Agenda:
5:00 PM: Pre-Summit Networking
6:45 PM: End of Networking/Transition to General Session
7:00 PM: National Anthem
7:05 PM: President's Comments: Lloyd Knight, President, VETLANTA
7:15 PM: Host Comments: Steve Cannon, President, AMB Group
7:25 PM: Introduction of Key Note Speaker: Mark Horn, Business Pillar Director
7:28 PM: Keynote Speech: Governor Brian Kemp
7:43 PM: Book Presentation: Scott Bass, VETLANTA Board Member
7:48 PM: TWA Mission: Jarrad Turner, TWA Director of Warrior Engagement
7:55 PM: TWA/VETLANTA Partnership Panel


Moderator: John Tien, The Mission Continues, Citigroup


Panelist: Jackie Breitenstein, VETLANTA/SHARE


Panelist: Hunter Hill, TWA Advisor and SignatureFD


Panelist: Scott Johnson, TWA President & Executive Director


8:25 PM: Closing Remarks: John Phillips, Vice President, VETLANTA
8:30 PM: End of Summit
REFRESHMENTS



Food and drinks will be provided. 



PARKING AND LOGISTICS



There will be free parking available on-site in a first-come, first-served basis. More details will be sent out on parking in advance of the Summit. 



ATTENDING ORGANIZATIONS



More than 40 organizations will be on-site to help answer your question regarding transition, community service, healthcare, education, and more. Company will also be hosting tables to discuss their own Veterans Business Resource Groups. 



ATTIRE
Time

(Tuesday) 3:00 pm - 8:30 pm
Location

Mercedes Benz Stadium

1 AMB Drive Northwest, Atlanta, GA 30313