I love to cook, and as the weather begins to turn, a big pot of New Orleans style gumbo comes rushing to the front of my mind…just this moment my taste buds went into full on dance mode! Most people focus their attention on the different meats and fish in the gumbo.  Chicken, shrimp, crab andouille sausage and crawfish – big mistake!  All of that is nothing more than a distraction. The real stars of this sumptuous dish are all the ingredients.  Let me explain, when I think about gumbo, I think about the deep richness of flavor that derives from the individual ingredient contributions.  First, there is the roux, which is made with butter and flour and a steady hand stirring it until it turns the color of a 10-year-old penny (are those still in circulation?).  The roux provides the strong foundation to the whole dish.  If your roux is not added then you don't have gumbo, what you have is a soup. Believe me, that's not the same! Second you add in what is known as the trinity…most people overlook the importance of how the freshness of these three ingredients – green pepper/yellow onion/red tomatoes add brightness to an otherwise heavy dish. The final ingredients include gumbo file, stock of your choice, okra if your momma was from Tuskegee, Alabama and white rice!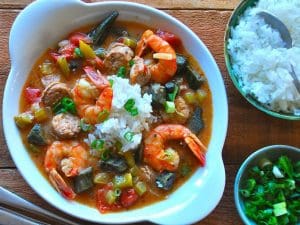 By now you are wondering, what the heck does this have to do with Veterans and DE&I?  It has everything to do with it, just like the gumbo took several types of ingredients to be an amazing dish, your organization will have to add, empower and expect talent contributions from various people. The mosaic mix of people should always include Veterans.  The Veteran is what I refer to as the roux in your organization. When businesses and organizations provide Veterans equal access to opportunities, time and time again, Veterans will navigate the lanes with a sense of intense curiosity and desire to achieve and win!
The best part of the whole thing is when Veterans prove the value of inclusion.  Oftentimes I share with others, when you hire a Veteran you really are hiring someone who can do more than you imagined.  Our ability and capacity to demonstrate tapped and untapped talent and skills continue to be the best part of who we are!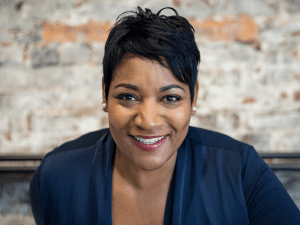 By Cherrie Davis
Diversity, Equity, and Inclusion Officer for VETLANTA
Cherrie is a visionary leader with 32 years of experience leading strategic human resources and change management.  Cherrie is founder and President of ShiftForward, a Human Solutions firm.  A recognized speaker, coach and author, is trusted by companies like GE, Walmart, Alabama Power, and the City of Atlanta. She is a retired Lieutenant Colonel (US Army) who has managed global assignments with NATO.  Cherrie supports Veterans needs as a coach with Stand Beside Them Inc. and as a Peer Leader with Women Veteran Network (WoVeN).